I was going to write a New Year's resolution journal, but then it struck me that instead of writing about what I'm
going
to do, I should write about what makes me
want
to do it. In other words, I want to share with you the things that inspired me in 2010 and make me want to be become a better artist.
So, let me compile a list of things I whole heartedly think you need to check out, what I consider my own personal "best of 2010".

Last Man Standing
First and foremost, my biggest inspiration of the last year has been
Last Man Standing
by `
DanLuVisiArt
. If you know nothing of this project, you need to check it out NOW.
`
DanLuVisiArt
' dedication to his book and story have not only gotten him a movie deal, but have forged both friendships and business partnerships for the rest of his life, a true inspiration.

Color and Light by James Gurney
Growing up, I was always a huge fan of Dinotopia from James Gurney, and just recently he released a book called
Color and Light
, which within minutes of getting it in the mail was my new favorite art technique/instruction book.
If you need an amazing, comprehensive book on how to paint and understand color, light, and form in a realistic manner, you'll find no better or easier to understand resource. It's only $15 on Amazon, and I'd have gladly paid $60+.

Drive by Scott Robertson
If you're
remotely
into vehicle design, you've no doubt heard of Scott Robertson. I had the chance to meet him earlier this year and get an advanced, signed copy of his new book
Drive
, and I'm absolutely in love with it.
Amazing designs, spanning all sorts of styles and functionality. If you like vehicles, you'll love this book.

Inception
If you haven't seen
Inception
yet, do yourself a favor and either rent it or buy it. I can't remember the last time a movie drew me in so completely and expressed such an amazing idea of infinite imagination. Avatar came close, but there's truly nothing quite like Inception.

LOST
Say what you will about
Lost
or its final season, but it is and always will be one of my favorite shows of all time. There's never been anything like it and it's hard to describe what an amazing, emotional, and mysterious ride it's been.
Lost is the type of thing that will always influence my ideas and creativity now that I've seen it. I believe everyone should try watching it. If you like it, you'll never regret it. If you don't... well, your loss.

Moon
Technically a 2009 movie,
Moon
did come out on DVD and Bluray in 2010, and it's a relatively unknown film that deserves all the exposure it can get. That said, it's up there with District 9, Inception, and Avatar as one of my favorite sci-fi movies of the past 18 months.
An amazing sci-fi thriller that takes place entirely on the moon and with practically only one actor whose performance is Oscar worthy in my opinion. You
need
to see this.

Mass Effect 2
I'm ashamed to say I haven't beaten
Mass Effect 2
yet, but if you want a stellar example of both classic and modern sci-fi design in an incredibly rich, thought out world with amazing characters, look no further than the Mass Effect series. It's on the Xbox 360, and the second one is coming to PS3 soon. The third is also set to release next year.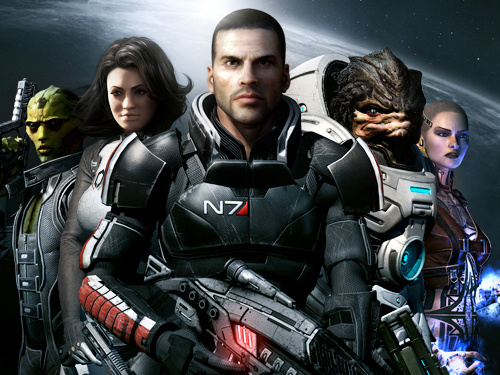 The Walking Dead
If you're into zombies, then you have to check out the Walking Dead, simple as that. The
comic
series is fantastic, and there's the new
TV series
on AMC that just wrapped its first season which is equally amazing. Really not a whole lot to say about it other than it's plain awesome.
I think I'll wrap this up here, because I could easily go on forever about the stuff that inspired me this year, but I think this is some of the most impactful on my end.
The one last thing I think I'll mention though is
CGHub
. If you ever need a good dosage of high quality art, look no further. I spend hours upon hours there each week.
Anyway, happy new year everyone! I hope you all meet your goals and aspirations and just generally kick some ass. Good luck, and take care!